Welcome to Enhancement Training
Enhancement Training's Covid-19 Policies & Procedures
Update : Enhancement Training named 'Best Further Learning Centre for Teenagers 2019 - South Yorkshire' by SME Awards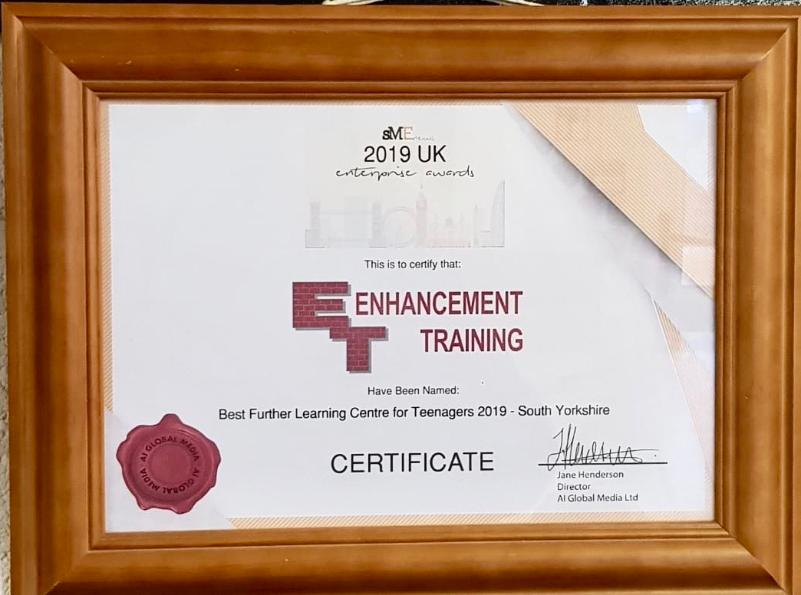 Enhancement Training opened in September 2009 as a purpose built Training Centre, offering places to NEET learners aged 12 to 16.
Learners are educated by highly motivated and qualified staff.
All staff are Enhanced DBS checked and we have qualified First Aiders on site at all times.
We work closely with Doncaster Council (TOPs), Doncaster Schools and Academies, Virtual Schools and PRU's.
We are voluntary Ofsted registered. Our inspection took place in 2020.
However Mainstream schools often bring Ofsted Inspectors for a tour to show where their excluded students attend. In December 2019 we had 2 inspections through St Wilfrids Academy and Big Picture Learning.
Our students come from a range of backgrounds and have a variety of learning difficulties or learning ailments such as ADHD or ADD.
We attend regular meetings and communicate with key workers, PLA's, social workers and parents/carers to support each and every student to the best of our ability.
Our aim is to provide a safe and exciting environment for students to continue to enhance their education and achieve their full potential within a learning environment when school has not been the best place for them to achieve. To develop individuals socially, emotionally and creatively.